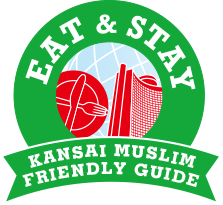 Registration form
C's Inbound Promotion Project
Phone : +81-6-6251-7707
E-mail : ml-inbound-p@ccc-inc.com
OSAKA MUSLIM & VEGETARIAN MAP
Registration Form
The Osaka Muslim & Vegetarian Map is an app that helps connect travelers to the Kansai region with hotels, restaurants, and shops that make a special effort to accommodate the needs of Muslim guests. Naturally, the app includes officially halal-certified establishments. But it also introduces a wide range of places that offer a variety of "Muslim-friendly" services.
To register your business, click the appropriate button below. Note: To be registered with this app, your establishment must be located in one of the following prefectures of Kansai: Shiga, Kyoto, Osaka, Hyogo, Nara, or Wakayama.

Registering your hotel, restaurant, or shop as a fee-based Recommended Establishment will boost the profile of your business. You can add messages to your listing, along with information about products, services, and popular items.
More features to attract customers:
Supports logos and up to 6 photos
Integrates navigation via Google Maps
Prioritizes listing on search results screen (with "Recommended" icon)
Includes one-touch Recommended list
Supports coupon function
So many great reasons to register as a Recommended Establishment.